This is the series where I explore the people that have inspired me as an artist. These are the people that have shaped me, and continue to shape me, into what I am. They have inspired me: I hope they inspire you too.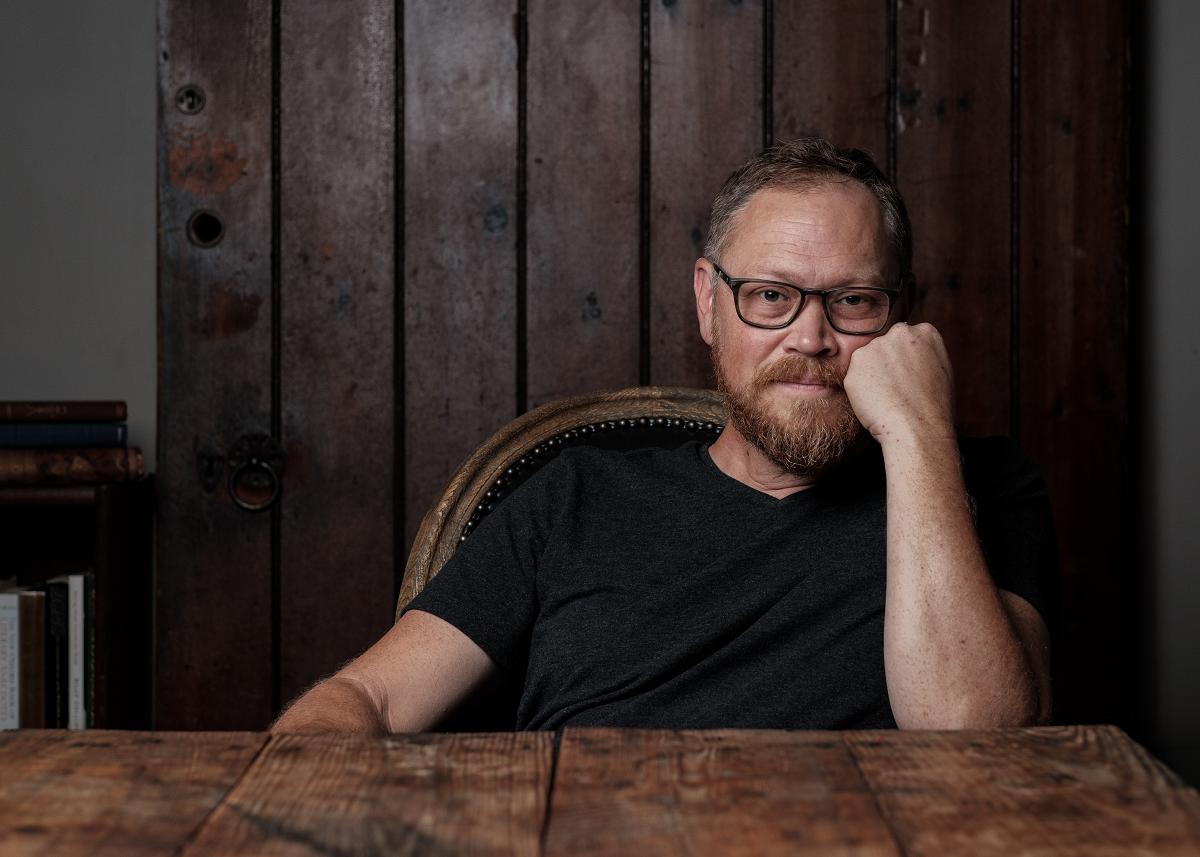 "Art, if it can be ascribed value, is most valuable when its beauty (and the beauty of the truth it tells) bewilders, confounds, defies evil itself; it does so by making what has been unmade; it subverts the spirit of the age; it mends the heart by whispering mysteries the mind alone can't fathom; it fulfills its highest calling when into all the clamor of Hell it tells the unbearable, beautiful, truth that Christ has died, Christ is risen, and Christ will come again."
Though I have been around Andrew Peterson's work for much of my life, I did not personally discover him until the age of fourteen. The songs "Holy is the Lord," "After the Last Tear Falls," and "The Silence of God", off his album Love and Thunder, were deep and powerfully beautiful and spoke to my soul. Since then few, if any, creative has been more influential in my life. 
Andrew Peterson was born June 4, 1974, in Illinois. The son of a pastor, he and his family moved back to his parent's origin state, Florida, when he was seven. Though he decided at a young age that he wanted no part in ministry he had a personal experience with God via the music of Rich Mullins at the age of 19. Inspired and having musical talent himself, Andrew set out on a journey of setbacks, providence, and grace; one to become a musician.
"If you'r called to speak light into the darkness, than believe this: the darkness wants to shut you up."
Like most creatives, Andrew's beginnings were far from star-studded. Newly married, uncertain, and mostly unimpressive, he was sure of only one thing; God wanted, of all people, him. He struggled, waiting tables to make ends meet until God stepped in and landed a fifty show opening gig with the popular Christian band Caedmon's Call. It was during this tour that he not only had his first bit of success, he also began to make the many connections, with people such as Bebo Norman, that he would one day be known for.
This tour led him to sign and produce his first album, Carried Along, with Essential Records in 2000. Picked to be part of CCM Magazine's top ten albums of the year, it also featured the top ten radio single "Nothing to Say."
"The burden God places on each of us is to become who we are meant to be. We are most fully ourselves when Christ most fully lives in us and through us. The mother shines brightest with her child in her arms, the father when he forgives his wandering son, and the artist when he or she is drawing attention to grace, by showing the pinprick of light overcoming the darkness in the painting, or the story, or the song. The world knows darkness. Christ came into the world to show us light. I have seen it, have been blinded by it, invaded by it. I will tell its story."
The next album, however, Clear to Venus, which released on September 11, 2001, did as badly as its date portended. "Then the economy tanked." Andrew wrote in his memoir/artistic handbook Adorning the Dark, "People were scared of big crowds and just didn't go to concerts. But we were on tour and we had bills to pay, so we had to do shows even if no one came. And few people did. Just as the economy began to struggle and people were starting to pay more attention to their wallets, Napster became a household name. Suddenly it was easy to steal music... Soon the record labels started stuttering, consolidating, downsizing."  Eventually, after his next album, Love and Thunder, also did not do well, Andrew was dropped from the label. 
During this hard time Andrew was able to fall on a core group of friends he had made during the early years of his career; people like Andrew Onsega, Ben Shive, Bebo Norman, Andy Gullahorn, Jill Phillips, Laura Story, Jeremy Casella, Randall Goodgame, and others. Forming The Square Peg Alliance to help promote each other, the group of mostly independent, struggling musicians swore to remain true to their callings and continue to write the music they believed in. It was in this spirit of collaboration and helping one another, that Behold the Lamb of God (a Christmas record) was recorded. Over the next few years, Andrew produced The Far Country, Appendix A: Bootlegs and B Sides, and Appendix M: Media / Music / Movies. He also worked on numerous collaboration projects with other artists including Slugs & Bugs & Lullabies (a children's record) with Randall Goodgame. 
"We will, he tells me, grow by grieving, live by dying, love by losing. The heart itself is the field of battle and the garden green."
Because of his experience of the help of The Square Peg Alliance and after an inspirational trip to the home of C. S. Lewis Andrew became convinced that good community nourishes good art. With the help of his brother and many friends, he began The Rabbit Room, a website where creators share their work and both encourage and inspire each other. Over the years this has grown by massive proportions to now include a large podcast network, a thriving store, and numerous shows and group meetings in the United States as well as the United Kingdom. 

In July of 2008, Andrew was signed to Centricity Music and was able to produce his tenth album Resurrection Letters, Volume Two. In the same year, he began his four-book fantasy series, The Wingfeather Saga, with the release of On the Edge of the Dark Sea of Darkness. The second book in the series, North or be Eaten, came out the next year followed by the album Counting Stars in 2010. 
"The gospel gives me hope, and hope is not a language the dark voices understand."
The Monster in the Hollows, the third book in the Wingfeather series, came out in 2011 and on August 24, 2012, Andrew released the album Light for the Lost Boy, to great critical acclaim. Review site Jesus Freak Hideout, which gave the album an exceedingly rare five stars, said of it "It's the kind of old-fashioned record that isn't a collection of singles, but a complete work that begs for full attention start to finish. It is simultaneously old and young, happy and sad, light and dark; it awakens gratitude for life and yearning for resurrection. And every listen seems to reveal something else" The album culminates in the incredible ten-minute question of awe and beauty, "Don't You Want to Thank Someone."
Though Warden and the Wolf King, the fourth and last book in The Wingfeather Saga came out to great reviews in 2014 Andrew released little for several years as he went through a serious depression and time of personal reflection. In 2016 The Burning Edge of Dawn, an intimate, confessional set of songs was the result of this hiatus. 
"When you run out of hope, everything is backwards. Your heart wants the opposite of what it needs."
Having released Resurrection Letters: Volume Two as an exploration of resurrection in our lives, Andrew finally released Resurrection Letters: Volume One in 2018 to be about the original resurrection; Christ's. It received incredible reviews with CCM Magazine giving it a full five stars and saying of it "Resurrection Letters Vol. 1 is like the first spring thaw, songs that sound like a burst of hopeful celebration and a declaration of new life." "Is He Worthy?," a song off the album, was nominated for a GMA Dove Award, was covered by Chris Tomlin, and, in my opinion, is the best worship song of the last five years at least.
Last year Andrew's before mentioned memoir/artistic handbook, Adorning the Dark was released and has since received numerous awards including The Gospel Coalitions Arts and Culture Book of the Year. In Christianity Today's review of it, they said, "This odd and wonderful tale about Peterson's calling and craft has to be the most remarkable book of its kind this year." Odd and wonderful is right. The book is extremely difficult to explain but beyond incredibly good. A must-read.
Andrew currently lives with his wife, Jamie, and three children outside Nashville, Tennessee in a little house called The Warren. He continues to write lyrics, essays, and books and tours around the globe. He also works consistently with the Rabbit Room. Nearly unfairly, (how much talent can one guy have?) he has recently begun drawing with great success.
We are more than gifted to have Andrew Peterson living and creating right now. His music, awe-filled, honest, melancholy, hopeful, and so, so deep stirs the heart and raises big questions with bigger answers. Chris Tomlin has said Andrew is is one of the best lyricists right now. I would extend that and say he is without a doubt the greatest alive in Christian music. His writing too, both fantasy and non-fiction, has a depth beyond most authors.  Somehow it remains gripping yet is totally saturated in Christianity in a way I can only describe as C.S.Lewisean (which is not a word but should be.)
I can not recommend Andrew Peterson enough. Thank God we have among us such a great creator and powerful voice for creators.
I will end this quote heavy post with a heavy quote.
"I am convinced that poets are toddlers in a cathedral, slobbering on wooden blocks and piling them up in the light of the stained glass. We can hardly make anything beautiful that wasn't beautiful in the first place. We aren't writers, but gleeful rearrangers of words whose meanings we can't begin to know. When we manage to make something pretty, it's only so because we are ourselves a flourish on a greater canvas. That means there's no end to the discovery. We may crawl around the cathedral floor for ages before we grow up enough to reach the doorknob and walk outside into a garden of delights. Beyond that, the city, then the rolling hills, then the sea. And when the world of every cell has been limned and painted and sung, we lie back on the grass, satisfied that our work is done. Then, of course, the sun sets and we see above us the dark dome of glittering stars."
[All (so many) quotes, unless otherwise mentioned, are by Andrew Peterson. People should be aware that the history of Andrew's life presented here is compiled primarily from Adorning the Dark, which, as I said, is a hodgepodge. I tried my best, but the timeline may be slightly off or incorrect. Thank you to Andrew Peterson's media team for help with this article and to Andrew himself for being awesome.]