A Logo is an extremely important part of any business. Even if you don't have a business, getting a logo can be fun and legitimizing for any hobby as well as making you appear more professional on social media. 
When I was decided to make a logo for my photography it was suggested to me by several photography online "trainers" to go with a company called 99designs. The way this program works is that you submit a request and a number of freelance designers get back to you with their mockups. You pick the one you like best and are involved in developing it from there. That all sounded great until I found out it was going to cost me $300 for the very lowest tier. If I wanted extras such as social media icons (pretty much a must) it would cost at least $400. 
I realize logos are important and those designers are talented but there was absolutely no way I could shell out that kind of money. 
So, I had to go wading into the world of logo creators alone on the hunt for a well priced, professional appearing logo. 
I found there are three main types of ways to get a logo. 
You can pay a designer (Fiver, 99designs, and others,) 
You can use a logo generator (Canva, Brandcrowd, DesignHill, Looka, and dozens of others)
Or you can design it yourself using Photoshop or similar.
 
The first option proved to be too expensive for reliable services. And I knew I did not have the skill to create a professional logo with all the needed file types and variations on my own. 
That left only option 2. Logo generator.
Yuck.
It sounded unprofessional and like it would give a bad, not unique result. 
And I was right. I did not try them all, only the ones that looked fairly reputable, but I was continually unsatisfied. 
Eventually, I found Looka. I ended up being very impressed with their service and built my logo with it. 

I'm quite happy with it.
So in this review, I will outline how Looka works, the pros and cons of Looka, and who it is for.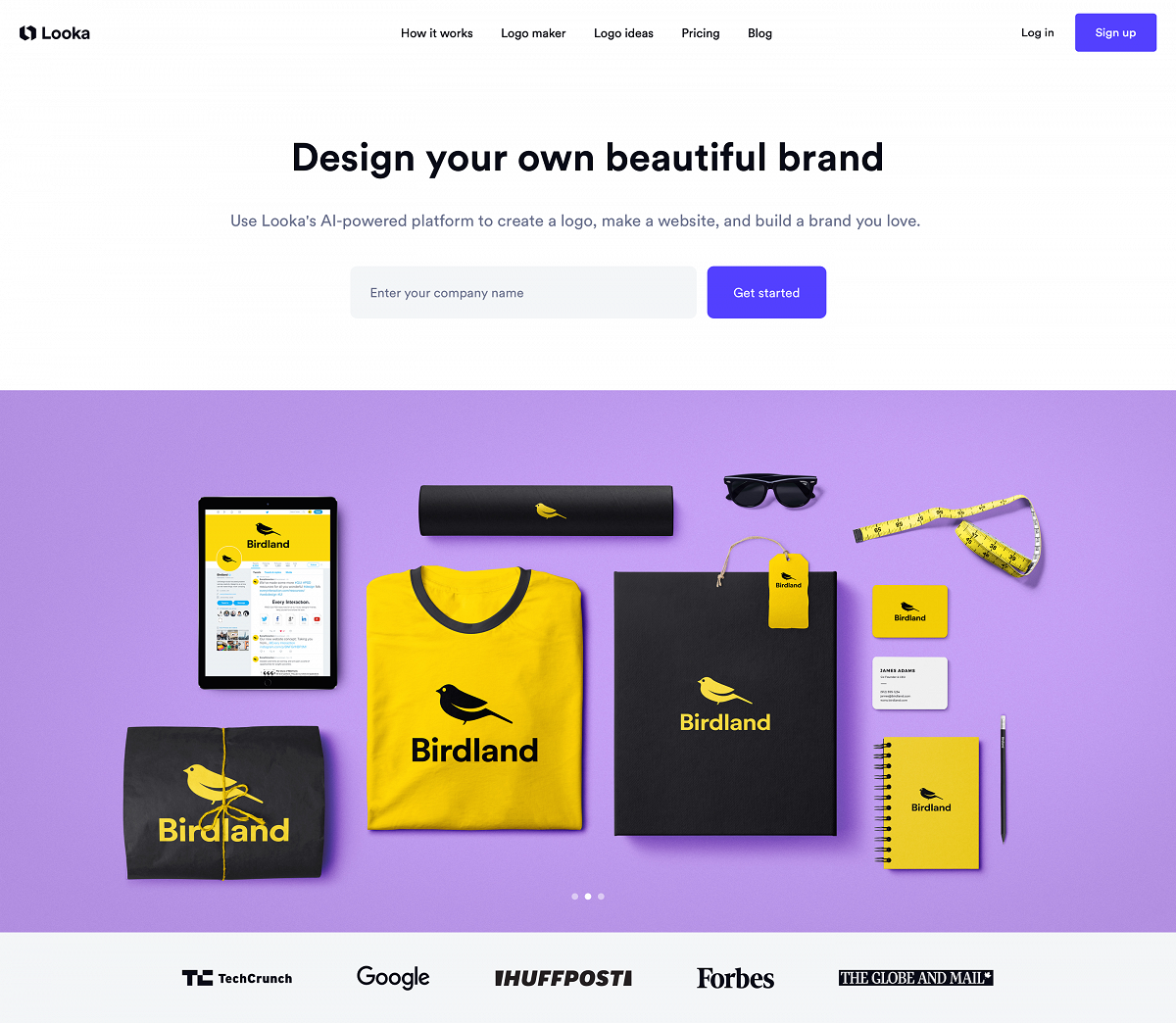 HOW IT WORKS
Looka starts you on the screen above. You enter your business name and are asked a series of questions such as what your business is and what your slogan would be if it was included in the logo. In an effort to learn what types of logos you prefer, you are then asked to pick out from a pool of logos the ones that appeal to you. You also have to pick several different colors, color themes, and color swatches. Finally, you are asked to pick a number of possible symbols from a huge library and the AI does its magic. 
The AI's "magic" is not particularly magical. You are presented with a screen like down below.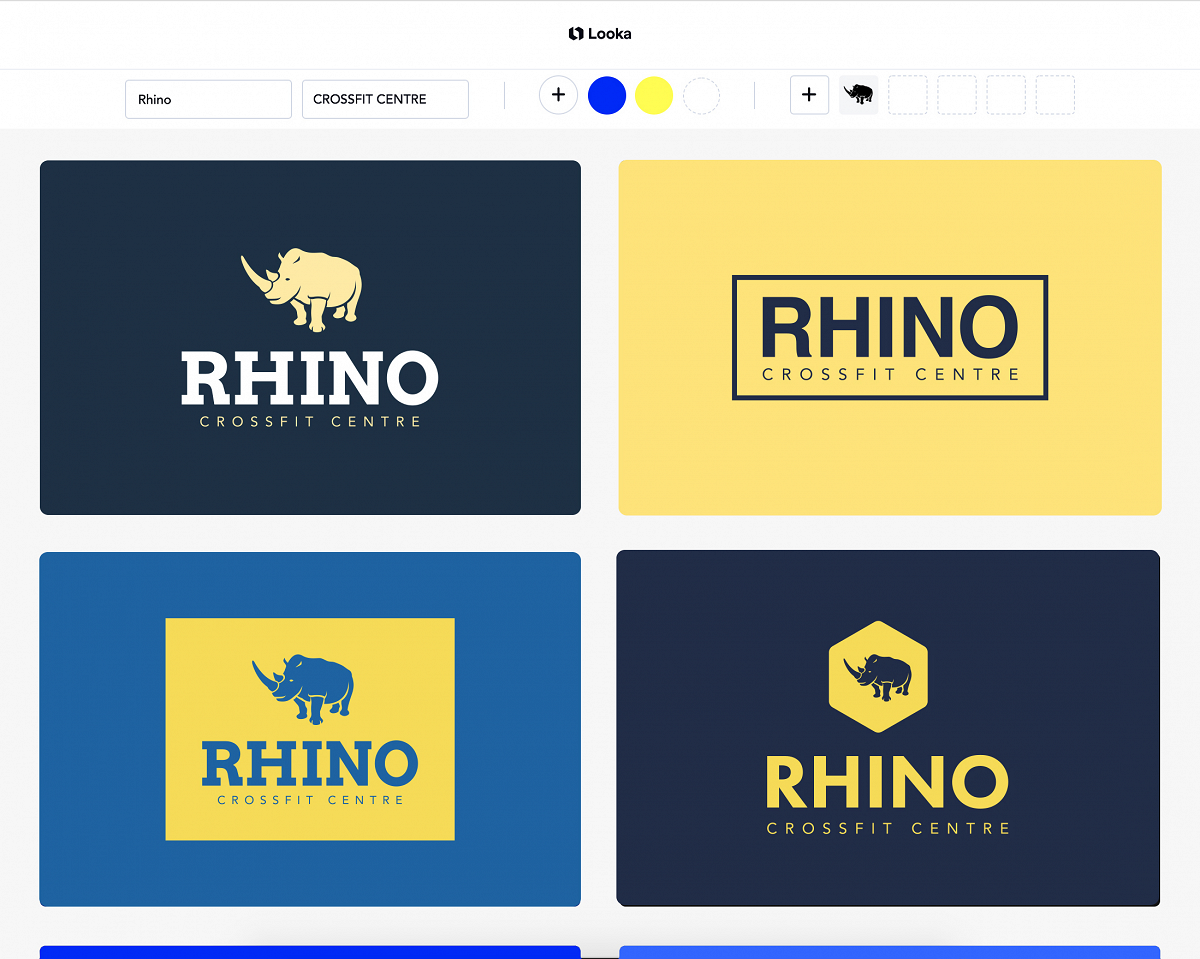 You can scroll literally forever on this page generating more and more possibilities based on your preferences. Pick a few you like and you will be taken to the editor. Here you can tweak the size, color, shape, icon, font, position, and other things.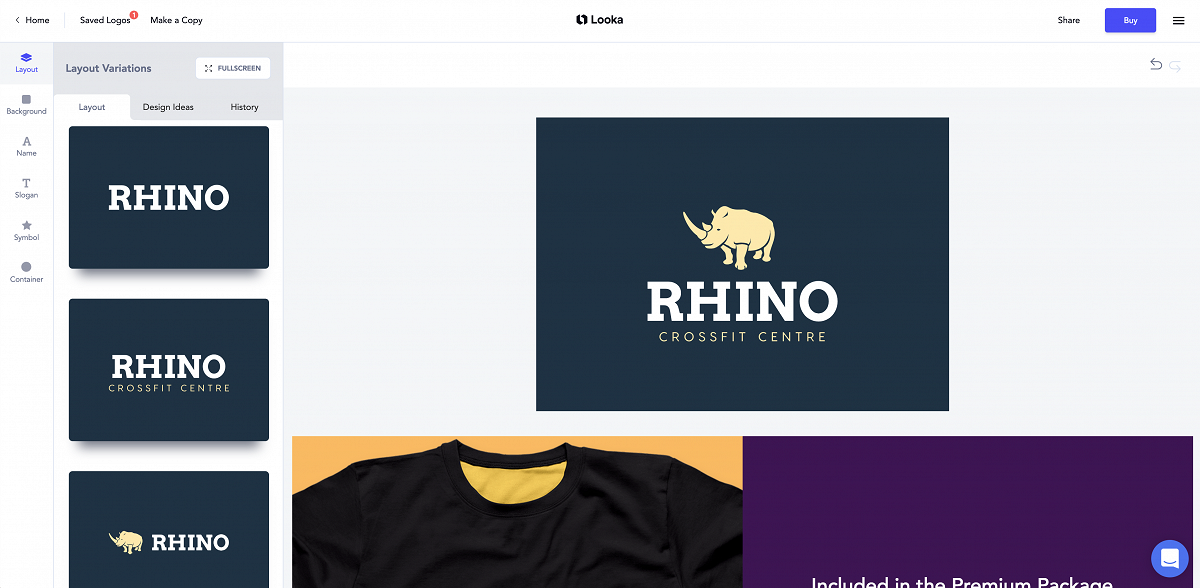 PRICING and PLANS
After your happy with your logo, you are given three different pricing plans.
Basic: $20. This gives you one small PNG file and is essentially useless. Don't get it.
Premium: $65. This gives you multiple high-res file types (PNG, EPS, SVG, PDF,) multiple color variations (including transparent backgrounds,) unlimited post-purchase changes(on request,) full ownership for life, lifetime technical support, and Basic info about logo fonts and colors.
Enterprise: $80. This has everything that the Premium package has plus the Social Media Kit and the Business Card Design. More on these below.
Also available for $9 each are two add-ons. 
The Social Media Kit includes 40+ pre-sized versions of your logo for all your socials as well as a logo watermark, favicon, and wallpaper. Basically, it takes your logo, resizes and rearranges it, and gives you every version of it you will need. I highly, highly recommend you get this.
The Business Card Design offers a PDF of ready-to-print business card designs with 4 front-of-card and 15 back-of-card designs in different layouts. I don't really recommend this. You will still have to print them after all. A business card printer such as Vistaprint or Moo would give plenty of designs for free and once you have your normal logo files it is easy to put it on those.
I would recommend you get the Premium plan with the Social Media Kit. This will bring you up to $74. Not bad for a good logo in loads of shapes and sizes!

PROS and CONS
Looka has a lot going for it. Pros include:

Price. Not the best I have seen but FAR from the worst. It seems to hit that sweet spot between spending too much and spending so little you waste money in the end.
Customer service. Quite good. Not the best I have seen, that prize goes to Pixpa, but stellar nonetheless.
Site. Very clean and user friendly.
Free building. You can spend a year tweaking your logo if you want. You won't pay a dime until you actually want the files. 
AI logo builder. I am still not a fan of building a logo in this way but Lookas is quite good. 
Symbol library. Huge. Nuf said.
Editor. Much better than the competition. It's both easier to use and has more control. 
Examples. Looka shows you what different versions of your logo will look like on a myriad of objects.
Blog and YouTube channel. Super helpful branding and logo themed content.
Outcome. If bought with the Social Media Pack you will have 50+ perfectly sized and rearranged logos for all your needs including socials, emails, photos, websites, business cards, and more.

It does, however, have a few things that could be improved. Cons include:
 
Editing Restriction. I do wish there was even more control as a possibility. It would be nice to have a way to override the helps and have a more complex system.
Fonts. There is no way to enter specific fonts. Though you can pick many you just have to scroll through and find one you like. This was no problem for me but for other people with something specific in mind, it could be.
AI. I am still not a big fan of using AI to achieve your logo. Just see this as a starting place only.
WHO is LOOKA FOR?
So who is this for? just about anybody who wants a professional looking logo in basically any needed configuration but can't shell out hundreds of dollars. It is reliable, as you don't have to pay until your happy, and relatively flexible. If you need something extremely specific, you may not get it here, but in general, I highly recommend Looka.
You may notice they also have a website builder. That I would not recommend. To see my website builder recommendation go here.