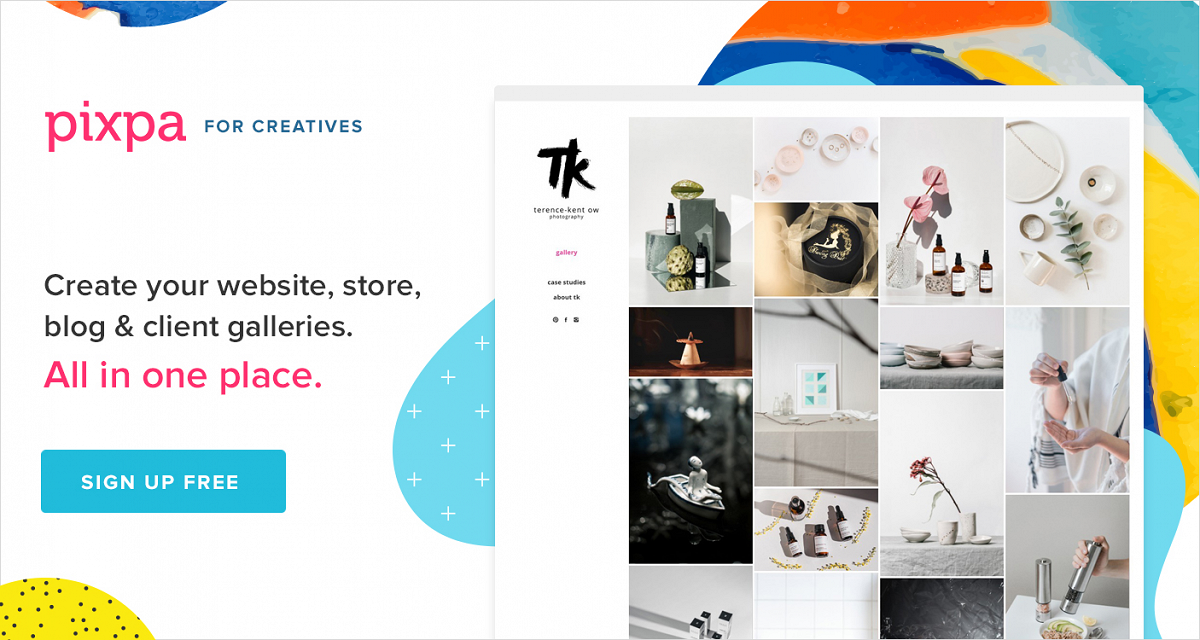 Websites are more and more a needed part of so many careers and hobbies. With so many uses for a website and so many services out there claiming to be THE ONE for you, it can be incredibly difficult to choose a website builder.
I know it was for me.
I spent several hours a day for nearly a month trying to sort through the options. Squarespace, Wix, Zenfolio, Imagly, Format, Weebly, Smugmug and so, so, so many more. Thankfully most have free trials and I ran through a LOT of those. I soon discovered a trend.
The clean, modern websites did not have the tools I needed as a photographer and creative, and the websites that did have those tools looked old and ran worse. 
And the price! I am a creative with little money and can't shell out $25 every month.
Then I found Pixpa. 
I was initially attracted by their prices. With the low end sitting at $6 a month and the highest at $15, it seemed very affordable.  
As I dug into the tools, however, I realized it was possibly the most full-featured web builder I had yet seen. I was impressed but skeptical, so I started yet another free trial. In the end, I decided to go with Pixpa (you may have noticed this site is made using it.) Now four months in I decided to make this review to tell you what I think of it and who Pixpa is for.
I have arranged this review in a number of sections. Scroll down to the bottom to get the quick version/recap and a coupon code*.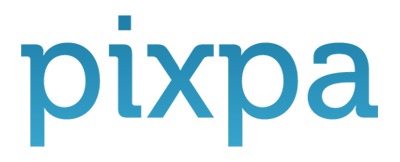 WHAT IS PIXPA?
Pixpa is an all-in-one platform used to create portfolio websites with e-commerce galleries, client galleries, stores, client apps, and blogs. According to their about page, Pixpa enables photographers and creators around the world to showcase, share and sell their work online with style and simplicity. This is really a niche website builder. Unlike Squarespace, Wix, or similar, it is not aimed at everybody. The primary client is photographers but is also great for artists, designers, models, and other creatives.

FEATURES and TOOLS
Pixpa has WAY too many features and tools to include every single one in this review. If you are looking for something specific I would direct you to contact me (button above) or go to the Pixpa feature list (it's massive) where you can search for the tool or talk to their customer service.
I can tell you it is the most full-featured website builder I have ever seen. It has everything you expect and could need and also those extras I just could not seem to get all together with other builders. The only noticeable exclusion is domain-based email marketing which, in my opinion, should be handled by a Mailchimp or another dedicated service.
Making it even sweeter is their long and growing list of 3rd party integrations. With Disqus, Mailchimp, Youtube, Statcounter, Issuu, Shopify, Eventbrite and so many more, your all set. See the long list here.
PRICING and PLANS
Pixpa is extremely affordable and is the best value I have seen from a website builder. The pricing is all-inclusive and honest with no hidden fees. It comes with a 30-day money-back guarantee and you can cancel or change your plan at any time. To find the right plan for you, you first have to pick between For Photographers, For Creators, and Client Galleries only. 
For Photographers is for photography portfolios, blogs, selling digital images and prints, and more. There are four of these plans. 
BASE is $6 a month and is shockingly full-featured for a starting plan. It comes with space for 200 gallery images, 1GB original file space (space for non-web optimized images used only if you are selling images,) and everything else the other For Photographers plans have except domain checkout, auto abandoned cart recovery, announcement bar, and mobile info bar. 
Next up is PRO at $9 a month. Take the name seriously; it really has everything a pro will need for a portfolio. Over BASE it gains unlimited gallery images (yeah, unlimited for $9 a month!)  5GB of original file space, announcement bar, and mobile info bar. Like BASE it lacks domain checkout and auto abandoned cart recovery. 
BIZ, at $15 a month will build you a complete photography business website. Over PRO it gains 20GB more original file space bringing the total up to 25GB. It also gains auto abandoned cart recovery and domain checkout.
The last For Photographers plan is ULTIMATE. I don't honestly know who this plan is for. It is exactly the same as BIZ except it has 1000GB worth of original file space. If you need that insane amount of space it will be $25 a month.

For Creators is for art portfolios, blogs, selling physical goods, and more. There are three of these.
START is $6 a month and, like BASE comes with space for 200 images and 1GB for original files. You can sell up to 3 products using it. It has all the features of the other For Creators plans except it lacks Inventory Management, Checkout on Your Domain, Abandoned Cart Auto-recovery, announcement bars, and mobile info bars.
GROW, at $9 a month gains unlimited gallery images, 5GB of original file space, and up to 10 physical products in the store. It also has announcement bars and mobile info bars but lacks Inventory Management, Checkout on Your Domain, and Abandoned Cart Auto-recovery.
PLUS is $15 a month and gains 25GB of original file space, unlimited physical products, Inventory Management, Checkout on Your Domain, and Abandoned Cart Auto-recovery.

The last plan set is Client Galleries Only. Though client galleries are included in the For Photographers plans, if you only want those and nothing else, then you can buy them by the GB. Prices start at $5 a month for 10GB and you can get up to 10TB. This can also be used as an add on program if you want to add space at any time to any plan.

Every plan gets unlimited bandwidth and users. (I can't stress enough how incredible unlimited bandwidth is for $6 a month!)
You can see a full list of prices here.
Also, keep in mind that students get a whopping 50% off.
EASE OF USE and CUSTOMER SERVICE
Pixpa is not the easiest website builder I have used, but it's far from the hardest. In my opinion, this is not a bad thing, however. Unlike some services that promise to help you make a website in "15 minutes or less" Pixpa is in for the long haul. They make it easy enough to set up, even without any tech experience, but make sure you know your highly unique website inside and out by the end. I would say that depending on the complexity of the website you need it could take anywhere between 1 hour and several days to build it. 
Have any trouble along the way? Pixpa help center always sits in the top right corner waiting for you to search one of its over 200 articles. Still need help? Well, let me introduce you to one of my favorite things about Pixpa. The customer service.
It is incredible.
A chat bubble sits in the lower right corner. Open it up and type your question in. Within a time period often less than 1 min you will get a response. The service is incredibly helpful, kind, and patient. I have tested it to the extreme (sorry Pixpa people!) and it was always great. Literally, the best customer service I have ever seen. 
WEBSITE APPEARANCE and SPEED
Pixpa currently has 39 available themes. Personally, I would like to see more so that websites are unique and you have less chance of having a one that looks just like that of somebody else. However quality over quantity is their game and I can definitely respect that. The themes are varied, responsive and work flawlessly, unlike some other services that have hundreds of themes. The websites end up looking clean, modern, and beautiful, and you have the ability to tweak little tiny aspects of them. 
They are also super mobile-friendly.

Speed is great. Though I can not side-to-side compare it with every service, I can tell you it creates some of the fastest loading websites I have seen compared to the many other services I have tried. I have heard from speed testers that speed in the U.S. is amazing. They said the rest of the world was very good too but to avoid using it if you live in Japan as it is rather slow there.
Hosting Review said that "in terms of performance, Pixpa is an example for other small website builder platforms."
I will also add that the builder itself, not just the website it builds, is very fast. Photo upload speeds are incredible.
The website is hosted on a highly secure service. Domain names are available from their partner, Hover.com, for the first year free and for less than $15 a year after that. You can also connect any other domain you already have instead or use a Pixpa sub-domain (yourname.pixpa.com) for free.
SELLING and E-COMMERCE
This is something that Pixpa really shines at. With a slew of tools to get this done Pixpa is, without a doubt, the best builder for photographers looking to sell photos. It is also great for other creatives. You can sell digital products, physical products or services. 
The auto features, such as auto abandoned cart recovery, auto print fulfillment, and auto coupons really stand out.
And with Pixpa collecting absolutely no commission fee every cent is yours. 
Having a full feature set of e-commerce, marketing, design, cart, and selling tools, I believe this is the best part about Pixpa. You can see a full list of store features here.
RECAP or IS PIXPA FOR YOU?
Basically, if you are a photographer anywhere between a beginner and a professional this is the thing you need. Need a portfolio only? For $6 a month you can create a beautiful, fast, unique website and will have room to grow with way more tools then you will need. Want to start selling work? Start out with a $9 a month plan to sell digital photos, prints, physical products and more, as well as client galleries and proofing. Want full features? Move up to the $15 a month plan.
Honestly, for a photographer, the only other services I would say you should even look into is building your site from scratch using WordPress. This will cost you WAY more though and will be far more complicated. Only a tech-wise individual who needs a VERY specific website should pursue this option.
If you are another type of creative, such as a painter, illustrator, model, or designer, Pixpa will also be a great option for you. It might not be quite as much of a no-brainer as for a photographer but the tools, value, and service is going to be hard to beat. 
When compared to non-photographer/creative leaning builders like Wix, Squarespace, Weebly, Duda, GoDaddy and others, you see that Pixpa has the features these others don't. The ones that you need as an artist. It also has FAR better value.
Compared to photographer/creative leaning sites like Smugmug, Zenfolio, Format, and others, the site still has more features, will look and run FAR better, and will also be a better value. Not to mention that Pixpa takes zero commissions so all the money you make will be yours.
Does it have small bugs and problems? Yeah. Nothing insurmountable, however. And it's way less than the competition. Also, keep in mind that Pixpa is constantly learning from their user base and improving. Just since I have been using it they have improved upload speed, fixed a complaint where you could not share images between galleries, and updated several other helpful things.
[UPDATE: The other day I used their "Suggest a Feature" button to ask for a change in the builder. I expected this to be considered for a future update but instead I had it changed within an hour. WOW!]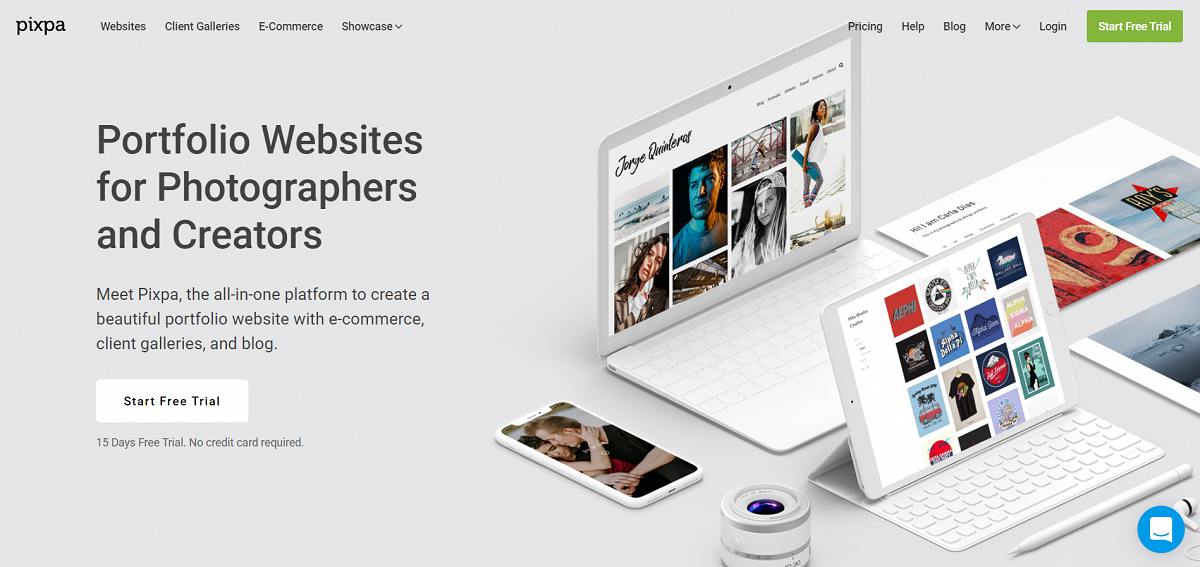 Still not sure about Pixpa? Drop me a line (contact button above) and I will try to answer your questions and tell you whether or not Pixpa is for you. Wondering about it compared to another service? Again, just ask. I have probably used that service before (I really did go through a lot to find this one!)
If you decide to give Pixpa a try they have a 15-day free trial with no credit card needed. You also get a 30-day money-back guarantee once you buy. 
Use coupon code JCS10 to get 10% off your first year* (that's up to $30 in savings). And by the way, if you ask they will extend your free trial. Take it from me. I asked and I got it so you probably can too ;)
J. C. Strange 
Soli Deo Gloria
 *Full disclosure. Like all users of Pixpa, I will receive a small commission if you use my links and coupon codes. That's just another great thing about Pixpa. You become part of the team and get to make money saving people money! I do truly believe everything I said in this article and would recommend it whether I got commissions or not. That's just icing on the cake!