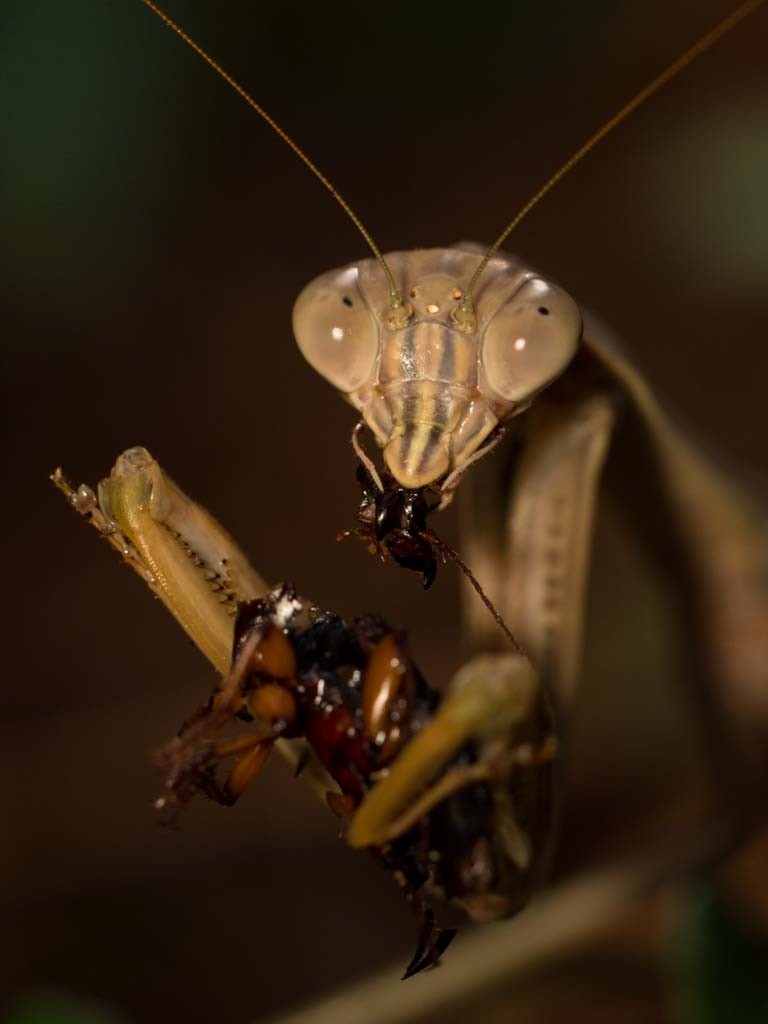 I love the praying mantis. Sure they're scary looking and vicious. Yes, they're disgustingly carnivorous and cannibalistic. It's these things, this spartan lifestyle in large part, that make them so incredibly fascinating and catapults them past so many worthy candidates to take the spot as my favorite insect.
The praying mantis (Mantis religiosa) is a family of insects named for their praying posture often taken while sitting still. I once heard somebody say very correctly that they might better be called the prey-ing mantis. Best known as vicious, ingenious hunters, they live entirely off of a carnivorous diet. This is why they'll wait for hours, and even days for their prey to wander by. If they don't catch live food, they die, sometimes literally where they stand.
Good thing then that they are so well equipped for this lifestyle. Armed with long, hard, spike-adorned front legs, they can grab and pin down a flying insect with speeds difficult to see with the human eye. Add to this their excellent camouflage, their 180-degree-spinning necks, and their five eyes (two large compounds and three simple) they are truly the stuff of bug nightmares. Moths, crickets, grasshoppers, flies, and their own kind are often eaten by the mantis but they have been known to eat fish, lizards, mice, and even small birds!
During its lifetime of about a year (long for an insect) the praying mantis has many predators of its own to deal with. The danger starts at birth. About two hundred tiny, perfect copies of an adult hatch out of one egg. Instantly they go into fight mode, not just against the many other insects that could eat them but against their hunger brothers and sisters as well. Those that come out of this first violent fight take their new war skills into the field as loners and continue one of the most epic survival stores in the animal kingdom.
Still smaller than most of their prey and dwarfed by those that prey on them, the praying mantis must slowly grow in both size and skill eventually to dominate its small kingdom/corner of the natural world. If against all odds, it makes it through the year then it has one last battle to face; reproduction. During the matting process, the male willingly drops all its hard-learned defenses and allows the female to eat it. Scientists aren't sure why, but one of many theories is that it serves to provide the energy needed for the laying of eggs and the creation of the hard-shelled egg sack. Not long after that, the drained female succumbs to executions, and she too lays herself down to die.
Insects live short lives and to us humans, they seem very futile. The praying mantis breaks out of that mold a little. Not only is their ingenuity and their hunting skill incredible, but their life has a sense of adventure to it and they themselves have a personality not really seen in any other insect. Some experts actually say that the praying mantis may be the only insect that can learn to recognize a human.
Plus they clean their claws after eating, how cool is that?